Global Chamber® Accra
Global Chamber® Accra is part of a thriving and collaborating community of CEO's, executives, and professionals in 525 metropolitan areas around the world taking on global business. We leverage technology and our own professional network to help companies succeed faster and more profitably across borders. We work collaboratively with local government agencies and organizations who also focus on helping businesses in Accra to "go global" and be more successful.  At Global Chamber® Accra, we  help companies eliminate international business mistakes, lower global business risk, and jump into international business more prepared.  We are the only organization in the world with the mission to grow business from anywhere to anywhere while collaborating with every organization. We help companies, investors and business service providers succeed.
Crescens Agyeman Badu
Global Advisor, Global Chamber® Accra
Crescens Agyemang Badu is an international business development consultant. He is the Global Advisor of Global Chamber in Accra and he is a connector and collaborator. Value-oriented professional with vast industry experience leading teams. Able to consistently deliver result by establishing collaborative and productive partnerships, effectively leveraging resources, and motivating cross functional teams. He is the director of Imextra a corporate solution consulting firm based in Accra Ghana and a business development consultant both Paytell company ltd  a heavy duty equipment dealers and Ghana Austria business Association (GHABA)

He holds a diploma in management and a bachelor's degree both from University of Professional Studies, Accra-Ghana, and an MBA in marketing from University of Ghana Business School and currently pursuing a professional course in corporate governance.
His vision is balancing professional life and personal life and making great contributions to society.
Team Members
 Mr. Peter Enimil 
 Deputy Executive Director, Global Chamber ® Accra
  Peter Enimil is a senior web and software developer, Businessman and also does consulting in  general IT  and social  media,  with a strong focus on Facebook and Instagram.        His firm; 233Developers Inc., does all  these. In  particular, he is focused on educating people on  entrepreneurship, managing start ups and  also training  people in using social media to achieve  business goals; creating  development plans to  help organizations  achieve their social media  objectives.
 He also uses the online  platform to create and develop techniques for business analysis. He also run social media groups and pages for  clients.
Not only is he the CEO of 233Developers Inc., he is also the President of African Youth Leaders & Entrepreneurs Network (AYLE Network), the CEO of pEnimil! Inc., Executive Director of ShowBiz Universe; Online Manager - Chief Executives Network Ghana; Manager for ProjectEDEN Ghana as well as an advisor for a number of start ups and non-profits. He worked formerly as the Communications & Social Media Director for Lords Community, USA. He has a BSc. in Computer Science from the University for Development Studies. He is a strong supporter of international businesses. He is more into listening to motivational speeches, music, reading and networking!
The Advisory Board
Our advisory board consists of great and insightful business leaders and owners from different but highly respected companies that gives advice to Global Chamber Accra in our efforts to support international trade and businesses in Accra, Ghana.
 Mr. Selorm Kofi Dake
  CEO of Karatizo Limited
 Selorm Kofi Dake is the CEO of Karatizo Limited, a leading business development advisory firm in    Accra, Ghana and National Vice Chair of the Alliance of Young Entrepreneurs (AYE) Ghana.
 He is an   achievement driven and leadership oriented professional with key  competencies in   international business development, business development advisory, FDI facilitation and private   sector development consulting. He was an Associate Consultant at the Kwaku Group where he   was part of the team of experts that consulted for the ECOWAS Commission, COMESA and the ACP  BizClim programme in Brussels on various international development and private sector capacity building projects between 2009 and 2014. He holds MSc. International Business and   Entrepreneurship from the Essex Business School, University of Essex, UK as a British Government Chevening Scholar and BSc. Chemical Engineering from the Kwame Nkrumah University of   Science and Technology (KNUST), Kumasi,
 Bernard Abeiku Arthur
  Senior Urban Specialist Unops-Cities Alliance
 Mr. Bernard Abeiku Arthur is a Senior Urban Development Specialist with experience in   Urban Development Policy formulation, city development strategies and Urban Transportation   planning.
  He is also the Vice President of the Alumni International Board of Institute for Housing and Urban   Development Studies in Rotterdam, The Netherlands, the Executive Director of ABLKONSULT LTD.   GH which offer consultancy services, policy advice and knowledge transfer in Urban Development   Planning and Management, City Development Strategies, Urban Transportation, Local Governance   and Decentralization to policy makers, city authorities, development partners and investors within and out of Ghana and the West Africa sub-region.
He has Post Graduate Diploma in Small and Medium Enterprise Consultancy Skills, PG Diploma in Urban Planning and Poverty Reduction Strategies, MSc in Urban Management and Development and many other educational qualifications.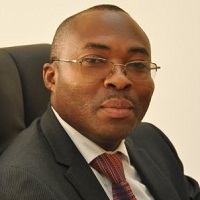 Edward Lamptey
  COO - First Allied Savings & Loans Ltd
Mr. Edward Nii Lamptey is the Chief Operating Officer of First Allied Savings & Loans Ltd, a leading, reputable and pacesetting financial institution in Ghana. He also doubles as the Ag. Managing Director of the company. Mr. Lamptey has a vast career experience from diverse business engagements at senior management level both nationally and internationally, including the likes of Bank of Ghana, Barclays Bank Ghana, JFK Accountancy Services - London and Eagle House Group Ltd – London amongst others.
He is a Chartered Accountant and holds an MBA from the University of Leicester.  He is a commercially astute accountant and banker who combines corporate strategic knowledge with an excellent interpersonal skill to achieve overall corporate objectives.
His other engagements include Managing Partner - Lamps Consult, Group CEO - First Allied Group of Companies and Director - Safenet Logistics Company Ltd.
 
Dr. Mrs. Shola Safo-Duodu
  Managing Partner - Leaders and Mentors International Ltd
Shola Safo-Duodu is an expert in strategic communications, marketing management, brand management and events management and has established credibility as an experienced and versatile management professional through the various business and support roles she has held in her career of more than 25 years.
Dr. Shola joined Barclays in November, 1997 as Marketing Manager and transitioned smoothly from Marketing Manager to the role of Head of Retail Banking from 2001 to 2005. Dr. Shola was recently Head of Corporate Affairs. And also, the former National President of the Chartered Institute of Marketing, Ghana (CIMG).
She holds an MA (Cantab) from Pembroke College in Cambridge University (UK); and is a Chartered Marketer with the Chartered Institute of Marketing (CIM) UK; is a certified Performance Development Facilitator trained by Oxford Consulting Group under the auspices of Barclays Africa and holds a Doctorate degree in Management from the Swiss Management Centre University (SMCU) with a thesis on Corporate Social Responsibility.
Dr. Shola is currently the Managing Partner at Leaders and Mentors International Ltd, a management consulting firm that specializes in corporate training, business transformation and leadership development.
  Mr. Eric Esubonteng
    General Manager & Managing Director - Anglogold Ashanti
Eric is an accomplished Finance and General Management Executive with extensive experience in senior management roles in the international resources sector.
He holds a BSc. Administration degree from the University of Ghana, an MBA from the University of Manchester (Manchester Business School), a qualified accountant – a Fellow of the Association of Chartered Certified Accountants (ACCA, UK) and an Associate Member of CPA (Australia).
Eric is currently the General Manager & Managing Director of AngloGold Ashanti (Ghana) Limited. He has been part of the team driving the on-going restructuring effort of the Obuasi Mine. Before joining AGA, Eric spent about 10 years with Gold Fields Limited, where he served in different management roles across different operations, including Acting Finance Manager at the Tarkwa Mine (Ghana), and Finance and Business Improvement Manager at the Agnew Mine (Western Australia).
Over and above his experience in the field of finance and in general management, Eric has been part of two major restructuring initiatives in the mining industry. He also serves as the 1st Vice President of the Ghana Chamber of Mines. Over the years he has developed a good network of key players in the mining industry in Ghana, and the regulatory and government agencies in Ghana.
  Mr. Joshua Akrong
    Acting Managing Director, KASAP LTD
He is a member of the Charted Institute of Administration and Management Consultants as well as the 1st Zonal Vice President, Southern zone of the Charted Institute of Administration and Management Consultants.
He holds a graduate diploma in Management, International Professional Manager Association, Final Professional Qualifying (Fdip) diploma in Management, Charted Institute of Administration (CIA), Ghana Executive Masters in Business Administration (EMBA) Finance Option School of Administration, University of Ghana and a BSc (Hons) in Geodetic Engineering.
Mr. Akrong has an immense wealth of work experience, having worked with firms like A. Kassardjian Ltd as an assistant Engineer to an Engineer- in-charge for roadmaking and signs. He also worked with KASAP Ltd, Accra as a Deputy Head of Survey and Design, Director of Finance and currently the Acting Managing Director.
  Mr. Richard Dugan
    Group President/CEO of McOttley Holdings
Richard is the Group President/CEO of McOttley Holdings, the umbrella company of McOttley Capital Limited, McOttley Money lending and McOttley Properties Limited. Richard, who is also the Chairman of Neny Group of Companies, is an investment banker and a business incubation strategist by profession.
Richard is a rare talent with exceptional expertise in Business Incubation, Process Design, Strategic Planning, Project Management, Financial Management, Strategic Marketing and Sales, Consultancy and General Business Administration. He is passionate about entrepreneurial development and leadership abilities of the youth so they can contribute significantly to national development.
Mr. Richard Dugan is a fellow of the American Academy of Project Management (FAAPM-USA) and a Chartered Master Project Manager (MPM-USA). Richard holds a Masters in International Business Management (MIBM), UK. He holds Bachelor of Commerce (BCom) Degree from Pentecost University (awarded by University of Ghana), Diploma in Strategic Marketing and Management from the Institute of Commercial Management (ICM-UK), Certificate in Risk-Based Approach to Compliance from Downton Hill, and is currently undergoing a professional qualification with The Chartered Institute of Management Accountants (CIMA-UK). Richard has also undertaken a series of training programmes in Compliance, Anti-Money Laundering, Management and Leadership and Strategy (Operational and Branding) in and around the world.
  Mrs. Grace Amey-Obeng
    CEO of FC Group of Companies
Mrs. Grace Amey-Obeng, a Medical Aesthetician, CEO of FC Group of Companies and one of the most successful entrepreneurs in the Beauty Therapy profession in Ghana and West Africa, providing services cutting across beauty care, education, manufacturing, equipment and publishing.
Over the past twenty-five (25) years, she has grown FC from a Cosmetic Retail Shop to a conglomerate.FC Perfumery & Cosmetics, FC Cosmetics Industry, Salon Equipment and Beauty Supplies (SEBS); which imports and wholesales quality beauty therapy and hairdressing equipment,
  Prof. Nicholas Nsowah-Nuamah
    Rector of Kumasi Polytechnic
Prof. Nicholas N. N. Nsowah-Nuamah, a full Professor of Statistics is the Rector of Kumasi Polytechnic in Ghana. He is currently the Chairman of the Conference of Rectors of Polytechnics (CORP) in Ghana. He is also the Chairman of the Council of the Regent University College of Science and Technology, one of the leading universities in Ghana.
Prof. Nsowah-Nuamah is a prolific writer. He has published fourteen (14) books and also a large number of refereed papers in international journals, some of which are widely used in Ghanaian and some universities and polytechnics in Africa. He has presented a lot of papers in international conferences. He has peer-reviewed five books in Statistics for the Journal of the Royal Statistical Society in UK and the Supplementary Handbook to the International manual on the Consumer Price Indices by the International Labour Organization (ILO), Geneva.
He is the founder of three Statistical Associations: Ghana Statistical Association (GSA) of which he is the interim President, Ghana Association of Statistics Students (GASS) for which he is the Chief Patron, Ghana Association of Statistics Students Alumni (GASSA) for which he is the Chief Patron.
  Munnira Sheikh
    Business Consultant
Munnira is a Pakistani business consultant who holds a Masters Degree in Business Administration and has an extensive  experience in marketing, branding, research and training. She has been instrumental in mega projects with multinational companies in Pakistan. She has also led an event management company for international exhibitions by the name of Brand Dimension as a CEO in Pakistan for 5 years. Moreover, she worked along with a renowned data management company in Pakistan to showcase Ghana to investors.
Currently residing in Ghana with her family, Munnira is engaged in motivational & transformational corporate training in Accra, Ghana and also providing business consultancy.
Caleb Ayiku
CEO of BREAKTHROUGH Consult
Mr. Caleb Ayiku is an Author, Trainer and Entrepreneur. Over the past 19 years he has developed his career in several sectors and in several African countries. As a Chemical Engineer he has worked over thirteen years in the downstream Petroleum Industry in Africa rising to the position of Managing Director in three Engen Petroleum affiliates in Ghana, Tanzania and Kenya. He also worked as Country Manager for Oando Ghana Limited and has trained and consulted with several blue-chip companies like Barclays Bank, CitiFM, Enterprise Insurance Company and FEDEX. His company BREAKTHROUGH Consult has consulted with over 30 medium-sized companies and he is currently a non-executive director for Wade Walker Ghana Limited a subsidiary of Murray & Roberts of South Africa. Caleb has a keen interest in fitness and wellness. He served as the first Country Director of Herbalife Ghana and has co-founded Camarie Foods Limited a small-sized food company which packages natural and healthy foods for health-conscious consumers.
DR. Owusu A. Kizito
​​​​​​​
DBA/MBA/EA Investigroup Companies
Dr. Owusu A. Kizito has a track record of being a dynamic, results-driven professional. He has over twenty years of experience as a board member, college professor, instructing, professional writing, lecturing, consulting, banking, financial analysis, project management, and process improvement. In addition, he has an extensive background as analytic expert regarding the calculus of decision-making, and problem solving. Dr. Kizito's skill set is magnified by his ability and by his ingenuity in the manner in which he effectively chooses and manages the professionals who work on his consulting teams. His primary engagements have center on the development and implementation of financial management systems and upgrades. This has been accomplished using a proven set of methods which are based on a systematic change process, that is both constrained by and in compliance with the relevant laws and regulations that apply to his clients' varied situations. He has thus established an enviable track record of successfully designing solutions to difficult engagements and then coordinating their implementation. As a result he has been credited with creating, as well as maintaining, lucrative client relationships, and boosting the sales and profitability of his company. Dr. Kizito is also an expert on financial/tax/accounting as well as housing counseling and a college professor instructing in all aspects of business studies.
If you're interested in learning more about Global Chamber Accra or in becoming a member, contact us at ACC@globalchamber.org, +233-26-341-2764 or +233-54-633-7399 (WhatsApp available)